Testimonials
Please visit our showroom to see copies of these letters and many more.
March 2007
I am VERY pleased with the work that was done. The service was fantastic and the crew was professional and considerate of our unique situation. Not only were they hard-working, but they were pleasant and their workmanship superb. I've had many compliments regarding the work and the speed in which it was accomplished. I will definitely be working with your company again when the need arises. I was especially impressed with Drew and John. Both very pleasant and professional. Again thank you for all that you've done and look forward to working with you in the future.
Darlene Chenard
South Windsor, CT
June 2006
Dear Ray:
We would like to express our thanks to you, Cindy, Jeff, John, Tommy, Ed, Erik and all the rest of the crew for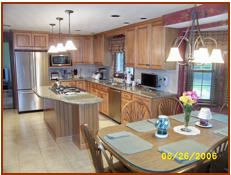 their superior workmanship. Our kitchen, bath, foyer and hallway look fabulous! We have received many compliments from family, friends and neighbors on the finished product. Our oldest son remarked that "it looks like a kitchen that you see in magazines."
When we look back over the past few months, we appreciate the ability of Heritage to coordinate the entire project from the planning stages through construction until the finishing touches. Ray, you and Cindy were very helpful in helping us design a new kitchen that was functional and created a better workflow. In addition, both of you were very patient in helping us select products, materials and colors that complimented our design and reflected our tastes perfectly.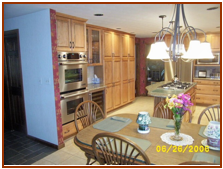 The construction crew led by Jeff demonstrated superior craftsmanship and courtesy. Each night, the crew cleaned up the work area and even installed a temporary kitchen sink for our use when it appeared that the countertop delivery might be delayed. All of the crew members valued and even sought out our input on small decisions to be made during construction.
We will recommend Heritage Kitchen & Bath Center to any of our friends and family that are considering a remodeling project. Also, we will keep you in mind for our future remodeling plans!
Finally, we would like to thank you for the glass trivet and wine selection book. The glass trivet has come in handy next to the gas cook top on the island. Tom is having fun stocking our new wine cooler with help of his new reference!
With sincere thanks for excellent service,
Kathy and Tom Kopcza
Vernon, CT
April 2006
Hi Ray,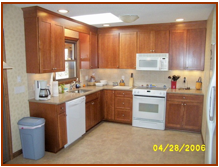 I just wanted you to know how happy I am so far with my new bath and kitchen. The workmanship is wonderful, and it looks beautiful. The workers couldn't be any nicer either. I can't want until it's finished so I can see the whole completed project. I was wondering, if you would mind if I gave out your name and number to people who are interested in contacting your company to get estimates for work in their homes. My next door neighbor said that she would love to have you give her an estimate for a bath. We thought maybe when I am ready for the other two baths to be remodeled you might be able to do hers at the same time. Please let me know if you want to come back down to this end of the state.
Once again I am excited about my work and the quality and professionalism of your company.
Mary Anne DeGrazia
Trumbull, CT
February 2006
To everyone at Heritage Kitchens,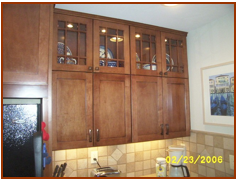 This letter is long overdue, but "better late than never" I hope! We just wanted to write to thank you for doing a superb job with our kitchen remodel. We could not have asked for a better team of workers. Ray guided us through the design process, and stayed on top of the project from start to finish. He was a regular voice of experience and common sense, and we felt we could ask him anything.
Drew was in charge of the project on site. I cannot fathom how such a young guy can be so good at so many different aspects of the job: he made sure all the woodwork and tile work was as close to perfectas it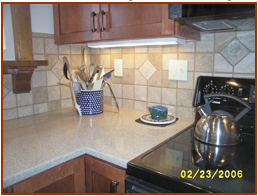 could possibly be, he dealt with the various subcontractors and inspectors with ease, he left our home clean every day, he communicated with us clearly about what was going to be happening and why, and he even made friends with our dog! He and Mike did a fantastic job.
We are very grateful to the crew at Heritage. The job was on schedule, even though we chose to have the work done through the Christmas holidays. I still can't believe we were without a sink for only one day!
We are very proud of our new kitchen—not only does it look beautiful but it functions so much better.
Thank you again,
Rick and Gretchen Fountain
West Hartford, CT
May 2006
Dear George,
My wife, Gail, and I want to commend you and your staff for the superb remodeling of a bathroom in our condominium. The work was extensive, as it involved the removal of a bathtub, a vanity, flooring, walls, electrical fixtures, medicine cabinet, and lesser items, all of which had to be replaced.
From her first visit to your showroom and in her subsequent visits there, Gail received professional, courteous assistance in selecting all of the most appropriate and desired replacements, even to the smallest fixtures, such as doorknobs and drawer handles.
During the one week of reconstruction, the Heritage crew performed most admirably. Although he room was gutted, consideration was given to our needs and all remnants and trash was promptly removed, with a complete clean-up each day. The installation of a shower stall, with its unique features, plus all of the other replacements that were required, was accomplished in a most efficient manner. All members of the work crew were gentlemen who worked well together. Each one was thoughtful and accommodating to our special needs. It was a pleasure to have them in our home. The follow-up painting of our bathroom also was done with care and to our complete satisfaction.
To you and to all of the individuals at Heritage who gave us such excellent attention, Gail and I wish to extend our deepest thanks for a job well done.
Most sincerely,
Richard B. May
Vernon, CT
March 2006
Ray,
I wanted to write to thank you for all the work done in my kitchen and house.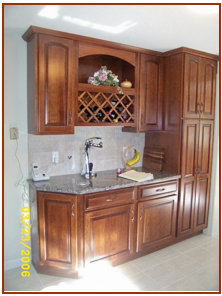 We are very pleased and impressed with the final results. I wanted to comment on how happy we are and thank you for your detailed planning for our work. We appreciated the attention to detail in the planning and were very impressed with the workmanship of the crew. I feel that each crew took personal pride in their specialty and gave the job 110% of their attention and expertise. You could tell that they wanted the results to be something they were proud to say they did.
I felt very comfortable asking questions and Tommy and Drew, along with Ben, Paul Greg, John and the rest of the workers took the time to explain timeframes and asked for my input on details. Each of the men were very pleasant and considerate to work with.
I wanted to thank you and Cindy for all your suggestions and help in planning the kitchen and bath. We can't believe how efficient and beautiful our kitchen is now. We are very happy with the kitchen, floors, the bath and the painting. Thank you and all the Heritage crew for a great looking house.
Very truly yours,
Kris and Paul Jenkins
South Windsor, CT
January 2006

Heritage Kitchen & Bath renovated our kitchen counters, and they exceeded all of our expectations!! The job was completed quickly with no disruption to our daily lives. Special thanks to Greg Lessard and crew. They were professional and accommodating. I can't say enough about Greg Lessard's workmanship. Greg was professional and courteous at all times. We have had numerous contractors in our house and none have compared to Greg's work. He answered all of our questions and fulfilled any major or minor job request. I would highly recommend Heritage Kitchen & Bath!!
Richard & Faye Johnson
East Hartford, CT
November 2005
Dear Ray,

Thank you so much for a job well done, we are thrilled with the results.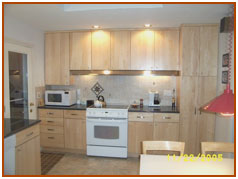 We have found Heritage Kitchen and Bath to be such a wonderful company. In fact, we have been pleased with the results of all four of the renovation projects we have asked them to undertake. From our first project, replacing a shower stall, to our most recent, a complete kitchen renovation, we have found everyone to be helpful and knowledgeable.
Assistance in planning and product selection was always good. Staff demonstrated a wealth of knowledge regarding products and helped us to anticipate possible difficulties while our projects were still in the planning stage. Cost estimates were very good. Materials arrived in a timely fashion and once work began, work continued until the project was complete.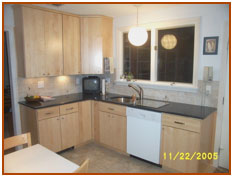 Employees on the job were always considerate, answering questions regarding work progress, giving "heads ups" on disruptions like water being turned off. Any unanticipated surprises were presented with possible solutions and an estimate as to any changes in the cost of the project.
Work sites were cleaned up everyday.
In the rare instance that some oversight was noticed, like a missing dab of chaulk, a brief call resulted in a quick response to remedy the oversight. Overall, we would characterize Heritage Kitchen and Bath as providing an excellent result at a fair price. Thank you again for a job well done, and we'll be "back at you" when it's time for the next job.
With sincere thanks,
Alan & Maggie Francis
West Hartford, CT